It's no secret that we LOVE a fancy dessert table around here. And while we want all the glitz and glam of fancy, we want none of the cost. Which is why we are showcasing our most budget friendly treat to date: these Unicorn Party sweet treats.
So, for these particular Unicorn Party sweet treats, we want you to know that we used the Rice Krispie treat original recipe – you know, the one from the back of the box. The way we made these a little extra (as the kids would say) was to add some a new sprinkle mix from Sweets Indeed, (their new Unicorn Sprinklefetti) right into the mixture.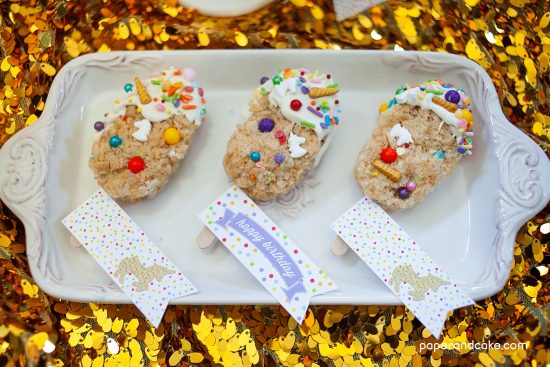 After we mixed up the cereal treats, but before they cooled we pressed the mixture into this silicone dessert mold, it was so easy! As soon as each "bar" was set, we popped it out of the mold and added more of the mix – just repeat until you are out of cereal. Next up, we used plain white candy melts and dipped the top of the treat bar, and sprinkled on some- you guessed it- sprinkles!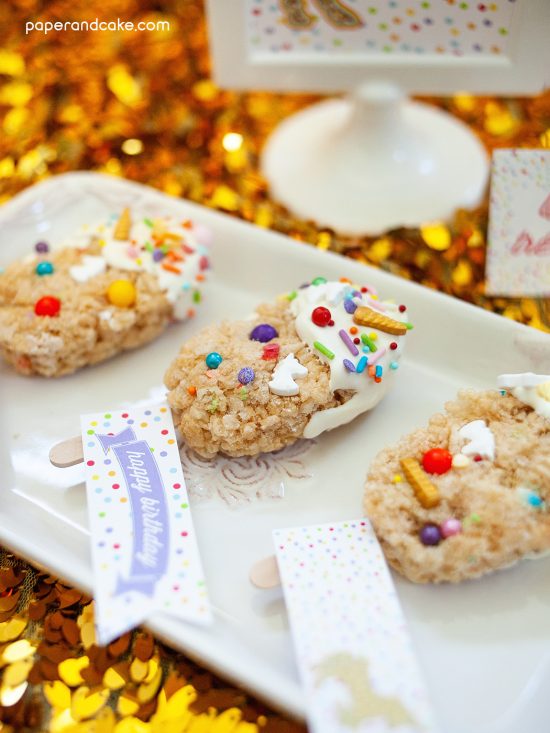 As for all the gorgeous paper decorations, you know we got you babe! Our Rainbows and Unicorns printable party decorations are ready for you in the shop. You can print and cut every single one of the 19 items in the set, or you can just use a couple of them, we won't judge.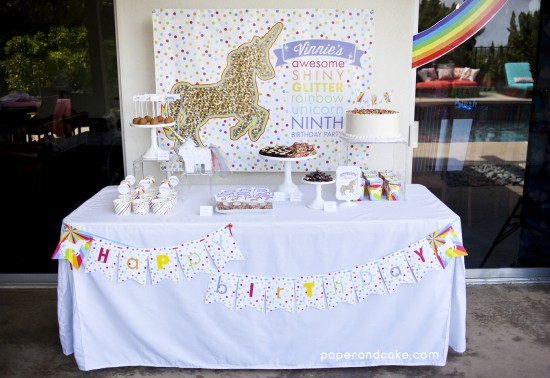 Need more party inspiration? Check out our Marine steampunk party and activities
and our gorgeous Sea Turtle party!
*Paper&Cake is a participant in the Amazon Services LLC Associates Program, an affiliate advertising program designed to provide a means for sites to earn advertising fees by advertising and linking to amazon.com.